News
Greetings footwear fans and welcome to the first monthly instalment of 'If The Shoe Fits', our rundown of what's hot and what's not in the footwear world. Written with footwear wholesalers in mind, we collate all the latest footwear news to keep you one step ahead of the game.
This month we have been hot footing our way across the web to bring you the Air Penny story from Nike, an elegant shoe launch from French model Chloe Gosselin, and a shoe-in for the wackiest footwear of the year award 2014….
How did Nike turn a Penny into a fortune?
A piece in this month's Sneaker News by the New York based sneaker authority John Bee Kim has turned back the clock to look at Nike's roster of Basketball athletes in the mid-1990s. We've all heard of Michael Jordan and his eponymous Nike Air Jordans, but the part the Air Penny (named after star point guard Penny Hardaway) has had to play in the Nike legacy is not so immediately clear. How has the lesser known Air Penny become such an important part of Nike Basketball's heritage? Here's the Air Penny Timeline to explain.
Roll back the years with some Hardaway magic from his Orlando days:

The new footwear range from Chloe Gosselin
This chic and elegant women's footwear range from stunning French model Chloe Gosselin is set to be a huge retail in 2014. Her first footwear collection, priced from $850 to $1,600, features a range of beautiful styles handmade in Italy from leather and exotic skins. Each of Gosselin's timeless collection has been named after a poisonous flower, from her emerald snakeskin ankle boot, dubbed the Viper after the Viper's Bugloss, to the Datura hot-pink pump. Check out the rest of the Gosselin range here.
The world's wackiest shoe designs
We finish this inaugural 'If The Shoe Fits' roundup of footwear news from around the web on a light-hearted note, with a look at some of the wonderfully weird footwear designs from Israeli shoe artist Kobi Levi.
Have you ever fancied slipping your foot into a dog, swan or even a slide before dashing out to work in the morning? Well now's your chance, as long as you have a spare £1500 in your wallet. Take a look at some of Levi's incredible designs here.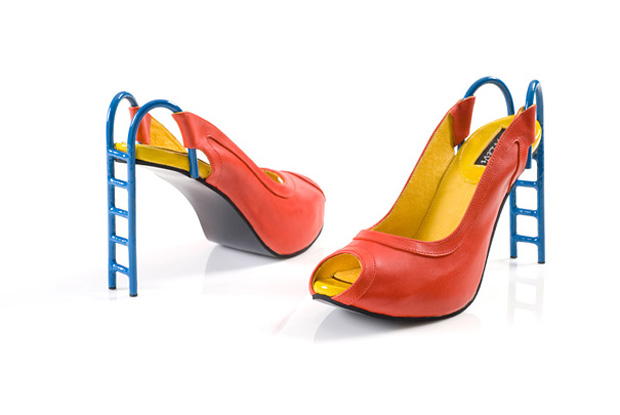 What are your thoughts on the latest range from Chloe Gosselin? What about Kobi Levi, would you brighten up your day with a pair of banana shaped shoes if money was no object? We'd love to hear from you, so please leave your comments below!
Newsletter
Sign up for our Newsletter